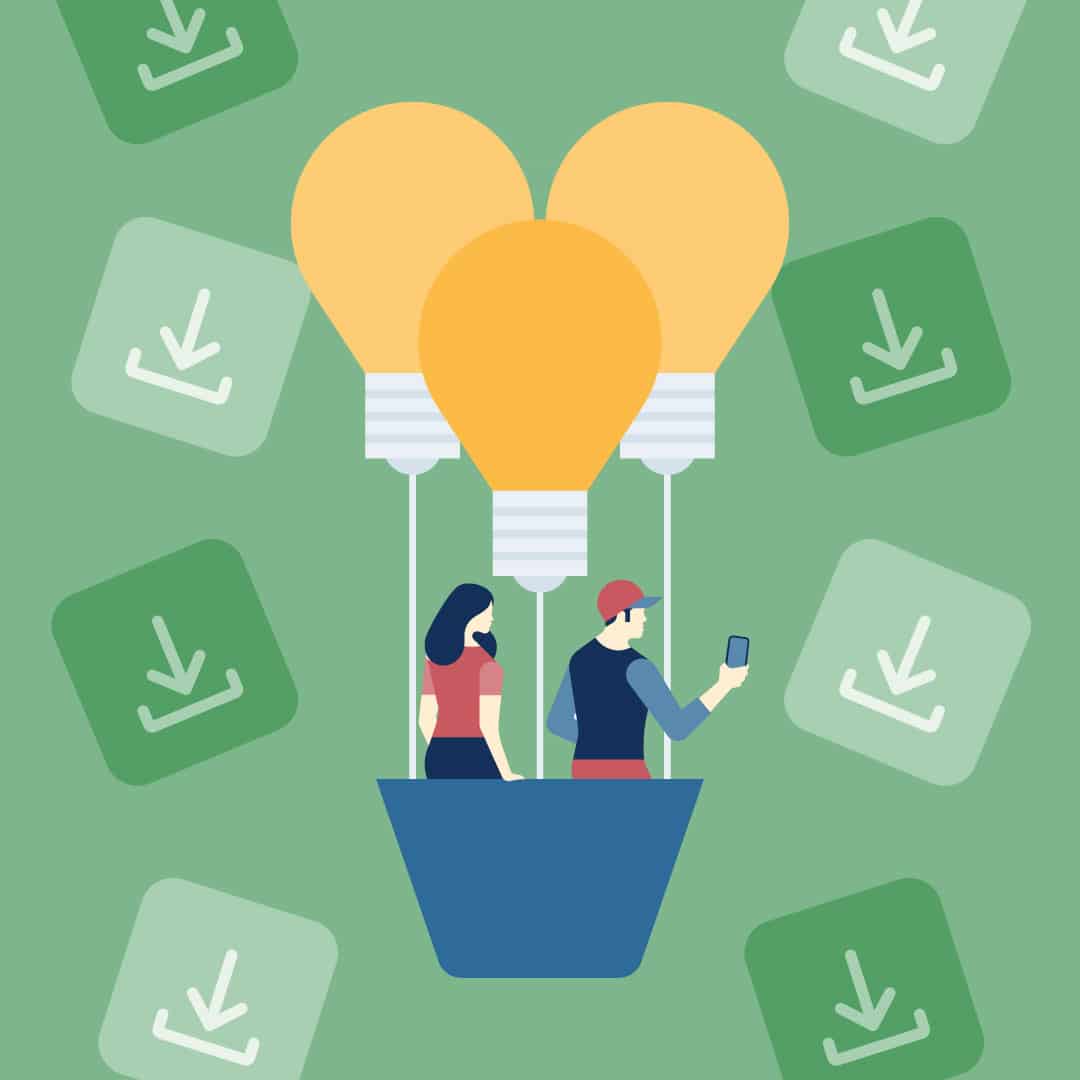 Social media is always evolving to satisfy the needs and interests of its users. New social media platforms emerge to serve specific audiences or to offer something different. In 2016, a new app called TikTok transformed the social media landscape through its short videos and casual, spontaneous aesthetic; it's now the most-downloaded app in the world.
Not all new social media apps will blow up like TikTok. But they do reveal how social trends and user expectations are evolving over time. If you're not already keeping an eye on the platforms below, it's worth checking them out to see how social media is changing in 2022.
New social media apps and platforms marketers should watch in 2022
TikTok
In human years, TikTok is only a kindergartener. But since being founded in 2016, it has grown to more than one billion monthly active users.
Eight new users join TikTok every single second!
Interest in TikTok continues to surge, with no signs of slowing down:
Despite those staggering statistics, brands have been slower to embrace the platform. In 2021, only 9% of marketers were using TikTok to promote their business.
Source: Statista
Because TikTok has grown so quickly, many people still associate it with Gen Z dance challenges. But in 2022, you can find every kind of content on TikTok — as well as highly-engaged users who want to discover new brands and products through the platform.
Ready to get started? We've got everything you need to know about TikTok in one handy guide.
Clubhouse
Clubhouse is an audio app, featuring chat rooms where users can drop in to listen to live conversations.
One of the newer social media apps on this list, Clubhouse was released in March 2020 for iOS. An Android version followed in May 2021. In between those two dates, the app exploded in popularity, acquiring two million active weekly users by December 2021.
This is especially impressive considering the app was technically still in beta-mode, and restricted to invitation-only. Interest was so high in the early months that invite codes were reportedly selling for $400. In July 2021, when Clubhouse opened up to everyone, there was a 10 million person waitlist.
But since then, enthusiasm has waned. Clubhouse peaked in February 2021, when big names like Elon Musk and Mark Zuckerberg were hosting chats, and declined from there.
Clubhouse is staying sharp by offering new features and partnering with TED. But it faces stiff competition from bigger players, who have introduced their own audio-only apps.
Even though its moment in the sun might be over already, Clubhouse had an undeniable impact on the social media landscape.
Twitter Spaces
Hot on the heels of Clubhouse, Twitter Spaces launched in November 2020. Users with at least 600 followers could host live audio chats, which were open to anyone on Twitter. In October 2021, Spaces opened up to all users, regardless of audience size.
It's hard to know exactly how many people are using Twitter Spaces. Twitter has 436 million monthly active users, but there is no data available on how many of them are also using Spaces.
Twitter Spaces offers a few unique features. Ticketed Spaces, rolled out in August 2021, allow hosts to set entry fees and earn money from their content. It's also testing Spaces Recordings, which would allow users to record and share their chats.
The emergence of Clubhouse and Twitter Spaces proves that social audio is a top trend in 2022.
Instagram Reels
Like Twitter Spaces, Instagram Reels is not a new social media platform so much as a new feature. But it's still worth paying attention to.
Reels launched in 2020 as Instagram's answer to TikTok. While video was already a part of Instagram posts and Stories, Reels added some new capabilities. Instagram Reels are short videos (15, 30 or 60 seconds) that can be edited right in the app. Unlike Stories, they don't disappear after 24 hours. They live in your feed, under a dedicated tab:
Reels offer more sophisticated editing options than Stories: you can edit clips together, adjust the layout, or add AR effects. The results are fun and creative, which is why Reels are so popular on the Explore page. And interest in Reels is definitely growing over time:
Should your brand be making Reels? We ran an experiment to see if Reels would boost our engagement, and overall we saw a small improvement. But Reels can be a powerful way to connect with audiences, and Instagram has configured the app to showcase quality Reels content.
And if you're already creating video content for Stories, it's definitely worth exploring Reels to extend the reach and lifespan of your content!
Spotify Greenroom / Spotify Live
The Clubhouse Effect strikes again! In June 2021, Spotify released their new app for live audio conversations. Sound familiar? The twist is that Spotify focuses on musical artists and athletes, leveraging their existing user base of podcast and music fans. While a Spotify account isn't required for Greenroom, you can log in to the app with your Spotify credentials.
Spotify Greenroom also allows the host to record the live chat, turning conversations into podcasts that integrate into Spotify's audio offerings. They've also created a Greenroom Creator Fund to encourage uptake of the app.
A month after launch, they had 141,000 downloads on iOS and 100,000 on Android. While this new social media app hasn't taken off in a big way, Spotify has the advantage of building on a platform that's already audio-focused.
In March 2022, Spotify insiders confirmed to Bloomberg that Greenroom was being rebranded as Spotify Live, and integrating it with their app to make the content more accessible to users. This change is expected to happen in the second quarter of 2022, and confirms that Spotify is banking on the growth of live audio.
Discord
Just as TikTok was once merely "the dance challenge app", Discord was launched in 2015 as a niche app for the gaming community. Since then, it's grown into a major player among chat-focused social media platforms, with 150 million monthly active users as of September 2021.
Discord is still popular among gamers, who can stream games on the app. But other communities use the video, audio, and text features to chat about all kinds of topics, from dating shows to sports.
While Discord doesn't sell ads, brands can still have a presence on the app by creating their own channels or servers (collections of related channels on a topic). The emphasis on genuine connection and conversation offers a chance to build deep relationships and gain valuable customer insights.
Twitch
Founded in 2011, Twitch is one of the oldest platforms on this list. And although it has 15 million active users, unless you're in the game space, you're probably not familiar with it.
Here's the deal: Twitch is a video streaming platform, where creators stream live content to their audiences. As of December 2021, there were 7.5 million active streamers. While games still dominate the platform, streamers create all kinds of content: cooking shows, makeup tutorials, and musical performances. In a single quarter, Twitch users watched 5.44 billion hours of streaming content.
As Twitch continues to expand its reach beyond the gaming community, brands have more opportunities to reach audiences through the app. Companies can create their own branded channels, partner with Twitch influencers, or buy ads on the platform.
Want to learn more about Twitch? We've created a guide to Twitch marketing for you.
Patreon
Founded in 2013, Patreon allows content creators to earn money from subscriptions. In exchange for their financial support, subscribers receive access to exclusive, regular content and can interact with content creators. Since its inception, Patreon has grown to more than 250,000 creators and over eight million paid subscribers.
For creators who have developed a following on other platforms like YouTube or Instagram, Patreon can provide more ownership and control over revenue. Patreon offers two models: a monthly subscription or a plan that allows you to pay per post.
It's free to start an account, and Patreon takes a cut once creators start earning revenue. For creators who are frustrated with the revenue models of larger social media platforms, Patreon is an opportunity to create a more direct relationship with followers. As platforms like TikTok and Instagram have drawn criticism from creators for confusing and secretive payment programs, platforms like Patreon offer a more transparent model that benefits creators.
Substack
The simplest way to describe Substack is as an email newsletter platform. Founded in 2017, Substack is a publishing platform that leverages the power of individual creators over media outlets. Each creator has their own publication, which allows them to connect directly with audiences without the oversight of a publisher.
Creators can offer paid tiers (starting at $5 USD/month) as well as free content. Like other social media platforms, Substack relies on influencers to build its audience, and has offered six-figure advances to entice well-known writers to publish on the platform.
Relatively speaking, Substack is still pretty small: as of November 2021, it had a million paid subscribers. However, that's a dramatic increase over the 250,000 subscribers it had in September 2020. The top 10 publications generate $20 million in income each year. And interest in Substack is continuing to grow:
Substack represents a departure from many other social media platforms, which reward novelty and immediate gratification. Creators on Substack typically produce long-form, in-depth written content, which requires deep engagement with subjects and topics. Substack prides itself on deviating from the "attention economy," which relies on clickbait and sensationalism. Each Substack functions as a community for its audience, who can post comments and interact with posts.
Substack represents a shift away from traditional publishing, as users turn away from larger outlets in favor of curating a personalized selection of writers and creators. Its growing popularity suggests that, despite rumors of declining attention spans, users are very willing to engage with in-depth, quality content.
Reddit
Founded in 2005, Reddit isn't exactly a new platform. But despite being one of the most-visited websites in the world with 50 million daily active users, it's still overlooked by many brands and marketers.
Reddit is a great platform for reaching younger audiences: 36% of 18- to 29-year-olds in the US are users. Two-thirds of those users are men, according to our Digital 2022 Global Overview Report. It's also still growing: Reddit added 30% more users in 2019 and doubled its valuation in 2021. It's also is investing heavily in new features and improved user experience.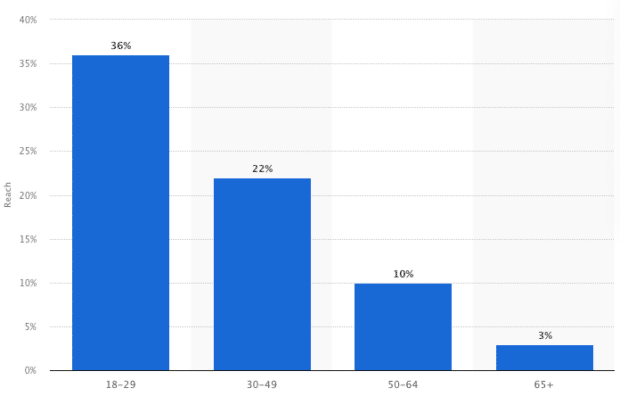 For brands, this growth translates to more opportunities to connect with audiences. Because Reddit is organized by "subreddits," which are communities focused on specific topics or interests. This allows marketers to hone in on their target audiences with a high degree of precision.
Brands can advertise on Reddit, through promoted posts, banners, and homepage takeovers. But they can also build relationships through organic engagement, by creating and participating in communities, joining discussions, and replying to comments. One popular method of engaging with users is hosting AMAs ("Ask Me Anything") chats Reddit users are savvy, and will quickly downvote content that they dislike. The democratic nature of the platform means that you don't have much control over the discussion: brands can't delete or hide critical comments on their posts, for example. But that built-in transparency also provides the opportunity to build real trust and engagement with audiences.
Telegram
Messaging app Telegram was founded in 2013, as a privacy-focused alternative to bigger platforms like Facebook. Users can exchange files, photos, videos and more through chats through group chats that can include up to 200,000 people. There are also public Telegram channels, which can attract millions of followers.
Telegram has grown rapidly in recent years: in January 2021 it was the most downloaded app in the world, and it now boasts 550 million monthly active users. Recently, it has attracted even more attention for its role in the Russia-Ukraine War.
Telegram only recently added advertising to the platform in October 2021, and is still running it in test mode. Ads are limited to public channels, and Telegram has promised not to give advertisers access to personal data or track whether users click on ads. Instead of targeting specific user demographics or interests, advertisers can choose the topics, channels and languages for their ad. Brands can also reach audiences organically by starting public channels or creating chatbots to support customers.
Public
Founded in 2019, Public is both an investing app and a social network for users interested in finance, cryptocurrency, and investing. Users can manage their portfolios through the app, as well as exchange private messages and join discussions on public channels.
In its first 18 months, Public grew to over a million members by focusing on diversity and accessibility, trying to reach new investors as well as those who are underrepresented in financial sectors. It now has over 3 million members, 40% of whom are women and 45% BIPOC.
They're also jumping on the live audio bandwagon with Public Live, offering real-time audio discussions. Unlike Clubhouse or Twitter Spaces, where anyone can host a chat, Public Live is more deliberately programmed. Speakers are vetted experts in financial topics, and shows are hosted at regular intervals.
It's a good time to focus on the growing personal finance community. In recent years, interest in crypto has surged. One in 10 internet users now invests in at least one cryptocurrency, and analysts anticipate that number will triple by 2030.
Public is an example of a new social media app that isn't trying to be everything for everyone. It's focused on a specific niche and topic, and is betting that a growing number of users will be drawn to that depth. If your company isn't in the finance space, Public may not be relevant to you. But it's worth considering how smaller social networks that serve niche audiences can play a role in your marketing strategy.
Polywork
Does LinkedIn finally have a challenger? Polywork, launched in April 2021, is a new social media platform focused on professional networking, where users can create profiles, curate a personal feed, and reach out to other users to collaborate and work together.
Unlike LinkedIn, where users have a single headline describing their current role or specialty, Polywork designed for the hustle-culture generation, allowing users to highlight multiple roles, side gigs, passion projects, and specialties.
In addition to profiles, Polywork aims to connect individuals with professional opportunities. For that, they've created their Space Station, where users indicate what kinds of projects or roles they're open to being contacted about.
Polywork is still technically in test mode, and is invitation-only. But it's exciting to see someone finally shaking up the professional networking space, with a more Gen Z-friendly platform. It'll take a lot to unseat LinkedIn, which has 722 million members. But Polywork is worth keeping an eye on, as it represents an exciting evolution in professional social networking.
Yubo
Launched in 2015, Yubo is a live-streaming app with a focus on friendships and connection, with 650 million users across 40 countries. Though it was founded in France (bonjour!), 60% of its users are based in Canada and the US. And during the early months of COVID, when everyone was stuck at home, Yubo tripled its daily user base.
Yubo users can create video chats, where the streamers can interact with viewers. Users can add each other as friends, which allow them to start individual chats.
Among new social media apps, Yubo is particularly teen-friendly, with a dedicated community for users 13- to 17-years-old. And Yubo has invested significant resources in making the platform a safe space for users. There is a Safety Hub that users can access 24/7 to report concerns or ask questions. There is also human and algorithmic monitoring of content to swiftly address any breaches of the community guidelines. And users who share personal information in a chat, such as their phone number, will receive a pop-up safety alert to educate them about risk.
This focus is refreshing, given how many platforms have become unsafe spaces where users (particularly women and people of color) face harassment and threats. While Yubo doesn't offer advertising or opportunities for brand partnerships, it's an example of how user expectations around safety and privacy are changing.
Triller
Launched in 2015, Triller is a video-sharing app where users can record and edit short videos, which can be synchronized to music using artificial intelligence. That feature makes it particularly popular with musicians, and Triller counts celebrities like Justin Bieber, Cardi B, and Post Malone among its users. It's also expanded into sports, streaming professional fighting and boxing events as part of Triller Fight Club.
With its emphasis on music and lip sync videos, Triller is a clear TikTok competitor. In 2020, this new social media app exploded after India banned TikTok, and gained 29 million users overnight. However, the app has also admitted to inflating their user numbers in the past, making it hard to know exactly how popular it is.
However big it is right now, Triller intends to get bigger, and become more than just a TikTok competitor. They recently implemented new features for creators, including one that enables users to record and broadcast from both the front and back cameras on their iPhones. And in March 2022, they announced the acquisition of Julius, an influencer marketing platform. The acquisition signals that Triller is serious about building opportunities for brands to reach audiences and run campaigns on the platform.
Get better at managing your social media presence with Hootsuite. From a single dashboard you can publish and schedule posts, find relevant conversions, engage the audience, measure results, and more. Try it free today.
Take the guesswork out of when to post on social media using Hootsuite's Best Time to Publish feature.