 As the busy Q2 earnings season starts, many investors are looking for opportunities in exchange-traded funds (ETFs) to diversify their portfolios and take advantage of the market's leading trends.
Today's article introduces three relatively new funds that could provide such benefits within the current highly-volatile environment. We should, however, remind that such new ETFs are typically small with little trading history. Therefore, further due diligence is generally necessary.
1. Kelly Hotel & Lodging Sector ETF
Current Price:

$14.54

52-week range:

$13.17- $16.31

Expense ratio:

0.78% per year
High vaccination rates and easing of travel restrictions mean tailwinds for the beaten-down hospitality sector. According to the 2022 State of the Hotel Industry Report from the American Hotel & Lodging Association (AHLA), occupancy rates and room revenues should approach 2019 levels in 2022.
Our first fund, the Kelly Hotel & Lodging Sector ETF (NYSE:), offers exposure to hotel and lodging stocks. The fund was launched in January 2022.
The ETF tracks the Strategic Hotel & Lodging Sector Index and currently has 40 holdings. In terms of sub-sectors, we see hotel and lodging management services (57.83%), real estate investment trusts (REIT) (34.62%), and vacation rentals (7.54%).
The top 10 stocks in the portfolio account for roughly 65% of $1.4 million in net assets. Among them are Airbnb (NASDAQ:); Hilton Worldwide (NYSE:); Marriott International (NASDAQ:); and two REITs VICI Properties (NYSE:) and Host Hotels & Resorts (NASDAQ:).
HOTL started trading in January at an opening price of $15.47. Then, on Mar. 8, it hit a record low of $13.17. Investors bullish on the hospitality sector could regard the current level as an opportunity to buy into the fund.
2. ETFMG Real Estate Tech ETF
Current Price:

$15.68

52-week range:

$14.62- $25.81

Expense ratio:

0.75% per year
The real estate segment is increasingly embracing technology. A Zillow study reveals that:
"40% of millennials are comfortable purchasing a home online, [while] 59% are confident in making an offer on a home that they've only toured digitally."
Next on today's list is the ETFMG Real Estate Tech ETF (NYSE:), which offers exposure to the global real estate technology industry. It was first listed in October 2021.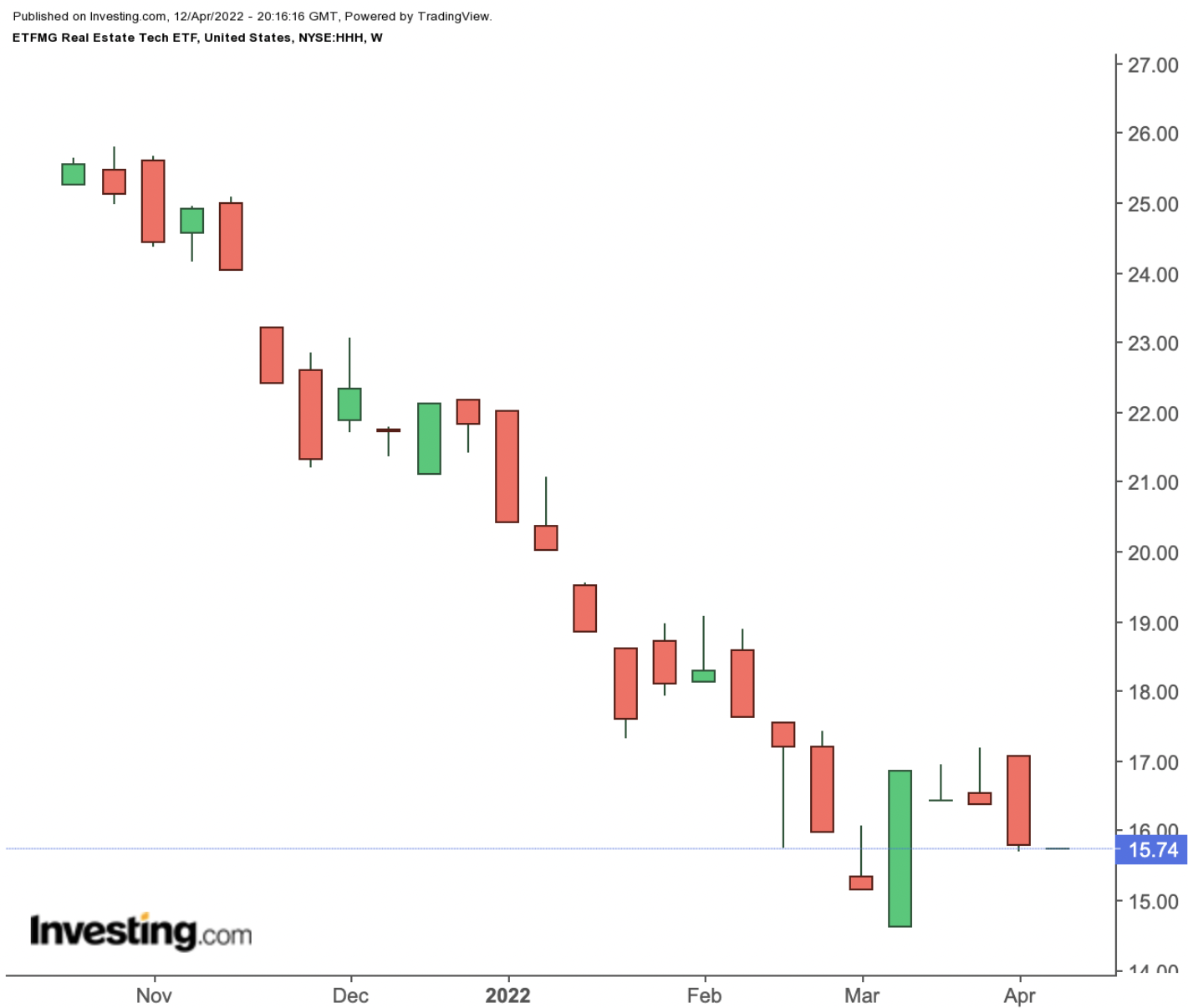 The fund follows the Prime Real Estate Technology Index and holds 39 stocks. The top 10 holdings comprise almost half of the net assets of $1.5 million. That makes the fund small and concentrated.
Real estate services have the most significant slice (30.6%). Next are interactive media & services (19.8%), application software (11.44%), and others.
Integrated software and data solutions provider Black Knight (NYSE:); analytics and online marketplace services group CoStar (NASDAQ:); Airbnb; Australian online property advertiser Rea Group (ASX:); and the UK-based Rightmove (OTC:) lead the names in the portfolio.
The ETF is down almost 28% this year and hit a 52-week low on Mar. 14. Despite the recent decline, we believe HHH deserves a place on your watchlist.
3. Simplify U.S. Equity PLUS GBTC ETF
Current Price:

$25.46

52-week range:

$23.69-$29.79

Dividend Yield:

0.29%

Expense ratio:

0.74% per year
A recent study by Vantage Market Research suggests the total global cryptocurrency market revenue stood at $1.54 billion in 2021 and should surpass $2.3 billion by 2028. Such an increase would imply a compound annual growth rate (CAGR) of 6.9%.
Our final fund, the Simplify U.S. Equity PLUS GBTC ETF (NASDAQ:), invests in U.S. equities while simultaneously offering a 10% exposure to the largest cryptocurrency, , via the Grayscale Bitcoin Trust (BTC) (OTC:). The fund's total assets have surpassed $110 million since its inception in May 2021.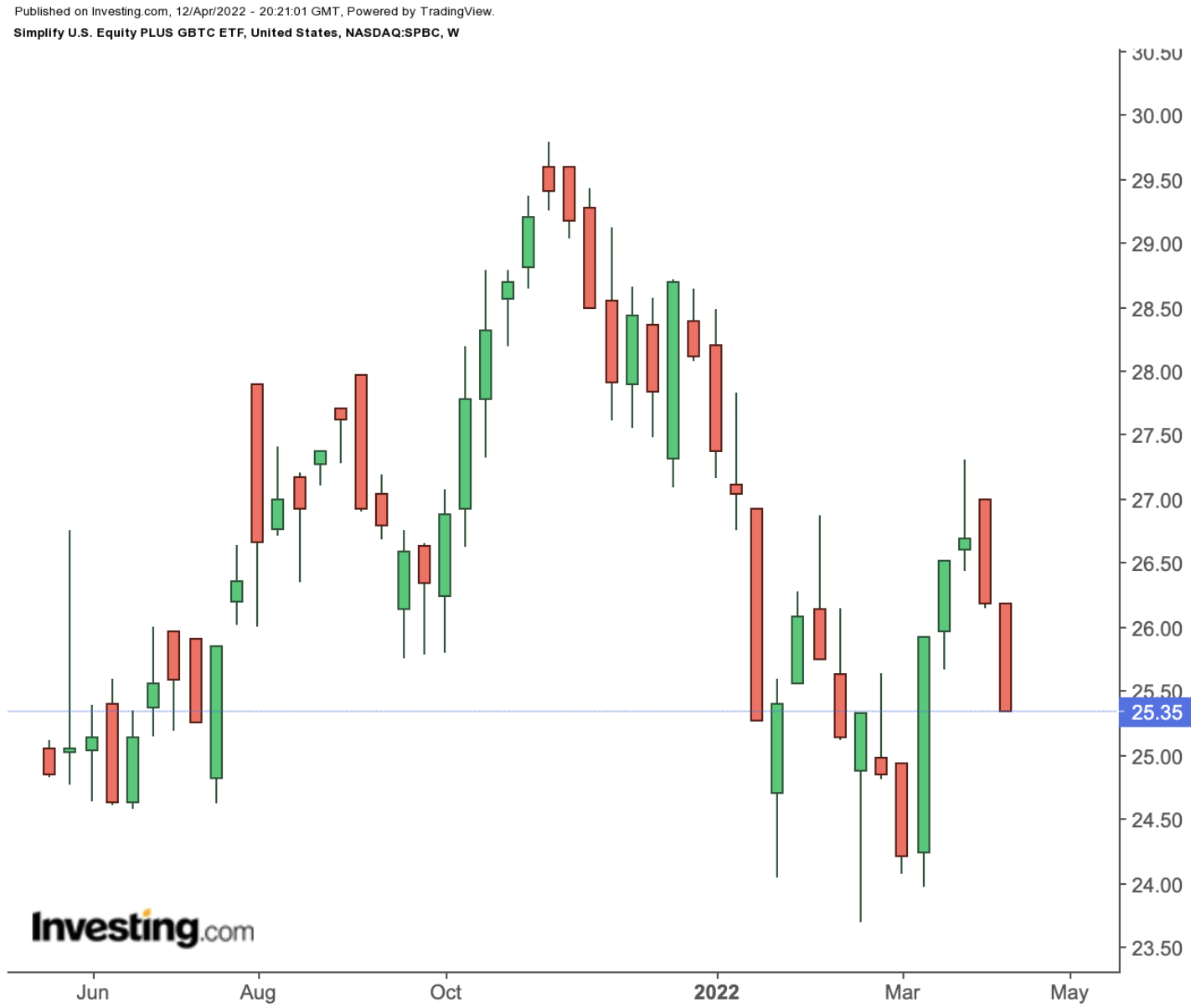 SPBC currently has 3 holdings, including the iShares Core S&P 500 ETF (NYSE:); the Grayscale Bitcoin Trust; and a futures-contract for Jun '22.
The SPBC fund could appeal to readers who want to add some Bitcoin exposure to their long-term portfolios. The ETF is down 9.8% in the year and hit an all-time low on Feb. 24. By comparison, Bitcoin has lost roughly 14.5% since the start of the year.