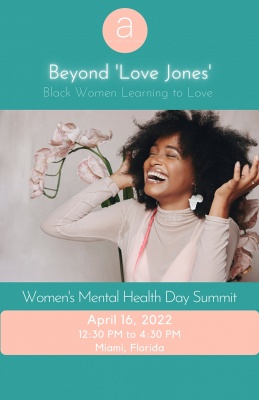 Beyond 'Love Jones:' Black Women Learning to Love
Mental Health Day Summit & Workshop
(Black PR Wire) Miami, FL — Relax and enjoy a revitalizing wellness event created by Black female mental health professionals, for Black women.
About this event
Overview:
Workshops On How To Build Loving Relationships
Relax And Unwind In A Zen Setting
Strategies Developed By Black Female Mental Health Professionals
Workshop Topics:
Unlearning Bad Habits
Enhancing Self Love
Building Positive and Loving Relationships
Maintaining Healthy Boundaries
Event Schedule:
Opening Session: Meditation/Intention Setting
3 Course Lunch: Salad; Entree; Dessert
Skills Building Workshops (2 Hours)
Attire:
'Come as you are'
This is a safe and brave space for Black women
This event takes place on Saturday, April 16 from 12 – 4:30 p.m. at the Center For Black Innovation, located at 937 Northwest 3rd Avenue, in Miami, FL. Tickets are $99 per person. The register to attend, click here:  https://www.eventbrite.com/e/mental-health-day-summit-black-women-learning-to-love-3-course-meal-tickets-259122772187
The content and opinions expressed within this press release are those of the author(s) and/or represented companies, and are not necessarily shared by Black PR Wire. The author(s) and/or represented companies are solely responsible for the facts and the accuracy of the content of this Press release. Black PR Wire reserves the right to reject a press release if, in the view of Black PR Wire, the content of the release is unsuitable for distribution.