 There are plenty of geopolitical headwinds roiling global markets right now. Unfortunately for the EU, the eurozone appears to be at the vortex of many of them. And the , the region's single currency, appears to be bearing the brunt of much of the current risk.
As Russia's incursion into Ukraine grinds on, the refugee crisis it's created will burden an economy already struggling to . Sven Jari Stehn, Chief European Economist at Goldman Sachs warns that if Russian President Vladimir Putin were to shut off the supply Russia is currently sending to European countries, rising gas prices would reduce GDP growth in the euro area by 0.6%. He cautions it could go as high as 0.9% in Germany, Europe's economic engine.
If Germany's were to flag, it would be difficult to ignore the likely additional repercussions to the EU economy as a whole.
Moreover, rising gas prices will further inflate already spiking . Still, it's difficult to believe that Russia would take such a drastic step since it would hurt the country's already even more. But Putin's ambition, and ego, should never be underestimated.
Whatever happens, the eurozone has already been pummeled by the blowback of war and the European Central Bank's hawkish shift. The double whammy has sent European stocks and the EUR/USD into a selloff. 
The euro may be developing a rising flag at the bottom of a falling chart. That means that the current rebound is likely to be short-lived.
This pattern occurs when short-sellers cover, thereby creating only temporary demand. When that demand evaporates, supply is expected to break the channel, pushing it into an even steeper decline.
Of course, that scenario will likely play out only upon a downside breakout of the flag. Otherwise, the common currency could rebound to the top of the falling channel, even if it will then turn lower.
However, the more frightening chart is the broader, monthly view.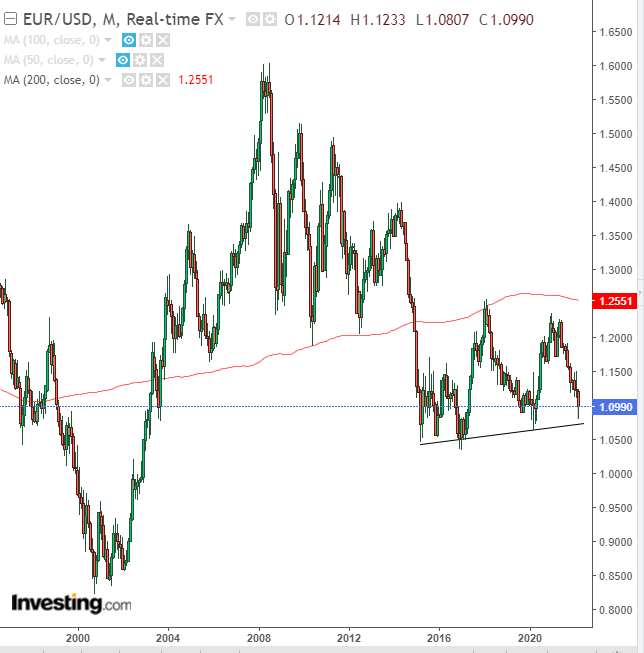 EUR/USD Monthly 1996-2022
This longer term chart shows more clearly how the puzzle pieces fit together on the macro level. The pair has completed a massive monthly H&S top, whose natural neckline is the 200-month MA. Since then, the EUR/USD has been forming another huge H&S continuation pattern, being tested currently.
So far, it's found support, but these drastic moves take time to play out. We can expect the pair to plunge toward the 2001 lows if and when the current pattern is complete.
Trading Strategies
Conservative traders should wait for the price to break the falling channel before risking a short.
Moderate traders would be content with a downside breakout of the flag before taking a position.
Aggressive traders could go short at will, provided it meets their preset trading plan and conforms to their personal risk tolerance. Here's a generic example:
Trade Sample
Entry: 1.1000
Stop-Loss: 1.1100
Risk: 100 pips
Target: 1.0700
Reward: 300 pips
Risk-Reward Ratio: 1:3