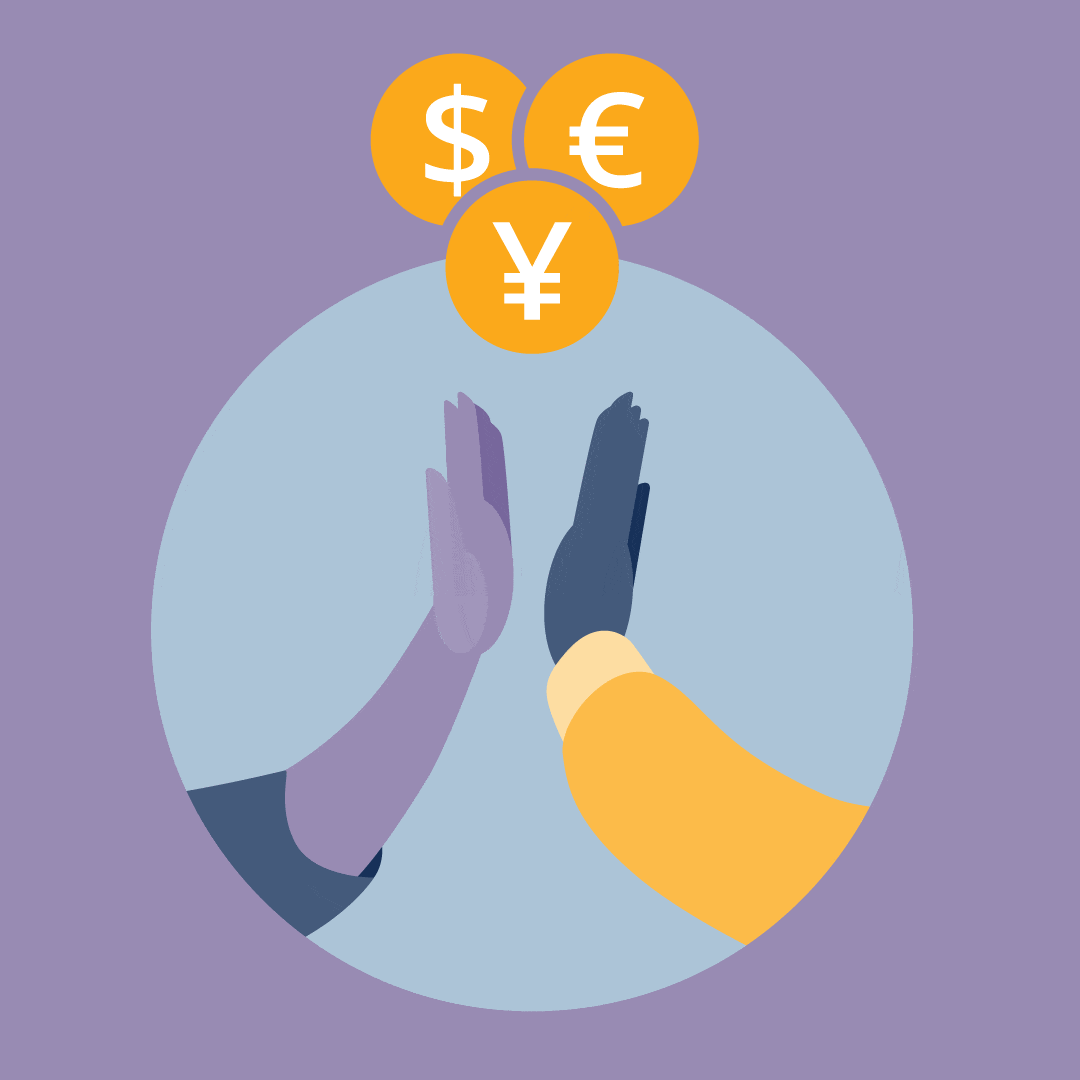 TikTok feels like it's a self-contained internet of its own. Think about it — you can find literally everything on there, from super popular internet celebs blowing up trends to niche weirdos who rant about their hyper-specific obsessions. There's joy, drama, passion, a shared language and a whole lot of community. And, just like any other corner of the internet, there are also plenty of opportunities to sell products.
Yes, TikTok's growth and cultural ubiquity means it's the perfect place for your brand. We've already learned how TikTok marketing can help you reach new audiences and grow your client base, but the app is far more powerful than that. If you learn the ins and outs, you can learn how to sell on TikTok in 7 easy steps.
It used to be that brands would just flood the feed and hope that TikTokers would organically switch apps to seek out their products. Then, last year, TikTok streamlined the process by partnering with Shopify to launch TikTok Shopping.
TikTok Shopping allows users to browse, select and purchase items securely without ever leaving the app. It's a seamless ecommerce integration that is already making major waves on the platform.
"Our community has transformed shopping into an experience that's rooted in discovery, connection, and entertainment, creating unparalleled opportunities for brands to capture consumers' attention," TikTok's Blake Chandlee said at launch.
"TikTok is uniquely placed at the center of content and commerce, and these new solutions make it even easier for businesses of all sizes to create engaging content that drives consumers directly to the digital point of purchase."
If you set your page up correctly (and meet TikTok's requirements), you'll be able to seamlessly add a shop tab to your TikTok page. The integration will allow users to view items from your online shop without leaving the app.
Since it launched last year, TikTok Shopping is no longer just for Shopify users. It also works with Prestashop, Base, Square, BigCommerce, OpenCart, Ecwid, Shopline, and Wix eCommerce.
TikTok Shopping was first launched for users in the U.S., the U.K. and Canada, but is now available for users in most countries worldwide.
Source: Ecwid
A lot of people use it
Put simply, TikTok is the epicenter of culture. Most trends — whether fashion, music, food, film or just about anything else — start on the app before traveling everywhere else. TikTok really is the cool kids' club.
But to be clear, it's not just for kids. There are approximately 1 billion monthly active users on TikTok. That's 20% of all internet users worldwide, and one-eighth of the world's entire population. And the average daily use time is over an hour long.
In other words, if you've got a cutting-edge product, or even just something that you think will attract some shine, TikTok's an incredible place to get your foot in the door.
You don't need a huge budget
It's not just clout that makes TikTok unique, either. Users tend to dislike overly slick advertising, instead preferring organically interesting material.
So you don't really need a big budget or team to make waves on TikTok. The app really does take a democratic approach to content, often promoting the best overall videos to the coveted For You Page (or #fyp).
That means the possibilities for reach are essentially limitless, especially if you know what you're doing. And once you finish reading our guide, you will.
Source: TikTok
1. Determine your niche
It goes without saying that the largest user base on TikTok is composed of teenagers, followed by those aged 20-29 and then those aged 30-39. This is already plenty of information to help you tailor your marketing, and it doesn't necessarily mean you can't reach older people if that's your goal.
Specificity helps on this network, so be sure to familiarise yourself with the app and its various communities.
For example, let's say you want to sell a reading light. Dig deep into the #BookTok hashtag and learn about the kinds of videos that the app's book enthusiasts are posting. If you learn their language, you can participate in conversations more organically.
2. Set up your business account
Once you've got the lay of the digital land, it's time to prime your TikTok account for success. Whether you've signed up already or are starting from scratch, you'll need to make sure you have a TikTok for Business account (and switching is as easy as opening Manage account and tapping Switch to Business Account).
You'll naturally want to primp your account so that it has all of your relevant brand info and imaging, and then it's time to integrate your ecommerce platform (instructions should be available on the site of whatever ecommerce platform you use).
When it's all said and done, you'll have the TikTok Shopping tag on your page, and it will display your products. There are two integration points to choose from — you can have the entire retail experience contained within the app, or you can have the final transaction take place on your website.
3. Start creating
Of course, it's not enough to just set up a page and let it sit there. To thrive on TikTok you need to create content. A lot of content.
When it comes to TikTok, quantity certainly trumps quality. But the main thing you need to remember is that you don't want to be "salesy." TikTok users will sniff out an ad miles away, so you need to be chill about it if you want to gain traction. Make sure you're actually having fun, because your viewers can tell if you're being authentic or not.
The best bet is to circle back on your niche research and participate in trends and challenges from within that realm. Whether it's a dance craze or a viral meme, you can participate in the trend while low-key promoting your product.
Once you've established a voice and a following, you might even try launching a TikTok challenge of your own with a unique hashtag. A move like this could pay off in unimaginable ways with the right amount of creativity and luck.
4. Tag your videos with products
One of the easiest, most important steps in this process is correctly tagging the items in your videos. Yes, the TikTok Shopping feature includes the ability to tag a product with a simple tap.
Not only is this key for keeping your brand awareness strong, but it also means you can advertise without advertising — your videos can take any form, and the products you feature will still be tagged. That's a great way to sneak some product placement in front of users who pride themselves on not falling for ads.
5. Leverage influence
Whether or not you've found success by tapping into TikTok trends yourself, there is always the option of influencer marketing. Yes, TikTok is packed with influencers from every walk of life, and they've all got one thing in common: they'll likely endorse your product, for a price.
Of course, like anything else, you need to do your research. You'll want an influencer who fits perfectly into the niche you determined in step 1, and you'll also want an influencer who has, well, actual influence. Look through their followers and posts to make sure they perfectly fit with your brand, then reach out and determine a partnership.
Working with an influencer can be a great way to increase your reach, but you should definitely be strategic because it can start to get expensive fairly quickly.
As an example, Kylie Cosmetics often works with influencers to promote their makeup products on TikTok.
@kyliecosmetics

@makeupbyalissiac fav lip shine lacquer shades: 90's bby, you're cute jeans and don't @ me! 💋
6. Encourage UGC
If you're smart (and, well, lucky), your work with influencers and use of original hashtags could invite a windfall of UGC (user-generated content). That's the ultimate snowball effect, which can result in unimaginable global reach for your brand.
UGC might take the form of a TikTok challenge or meme, or it could just be a single video that goes viral. It could be something that you invite as a brand, or it could be a matter of capitalizing on an organic opportunity when it arises.
The most infamous example of this was Nathan Apodaca's highly viral TikTok which saw him skateboarding while sipping Ocean Spray cranberry juice and listening to Fleetwood Mac's "Dreams." The video attracted global attention and was recreated by multiple celebrities (including members of Fleetwood Mac themselves).
Most importantly, Ocean Spray integrated it into their marketing materials and capitalised on it by promoting the #DreamsChallenge. The original TikTok now has 13.2 million views. Imagine what would have happened if they had tagged their product right in the video.
7. Promote posts
Again — TikTok users are not as apt to respond to traditional advertising. But that doesn't mean you can't promote an organic post. In fact, it's pretty straightforward to get a video in front of more people with TikTok Promote.
Here are the steps to promote a video and drive traffic toward your storefront:
1. Tap Me in the bottom right to go to your profile.
2. Tap the 3-line icon in the top right to go to your settings.
3. Tap Creator tools, then tap Promote.
4. From the Promotions page, tap the video you'd like to promote (it has to be public, and can't contain copyrighted music).
5. Choose one of the following goals for your video:
• More video views.
• More website visits.
• More followers.
6. If you choose More website visits, you'll add an URL and choose a call-to-action button (example: Learn More, Shop Now, or Sign Up). Then tap Save.
7. Tap the circle next to the audience you'd like to reach, then tap Next. You can choose from:
• Automatic. TikTok will choose the audience for you.
• Custom. Target specific genders, age ranges, and interests you'd like to reach.
8. Set your budget and duration, then tap Next.
9. Add payment information (Android) or recharge your coins (iPhone).
10. Tap Start promotion.