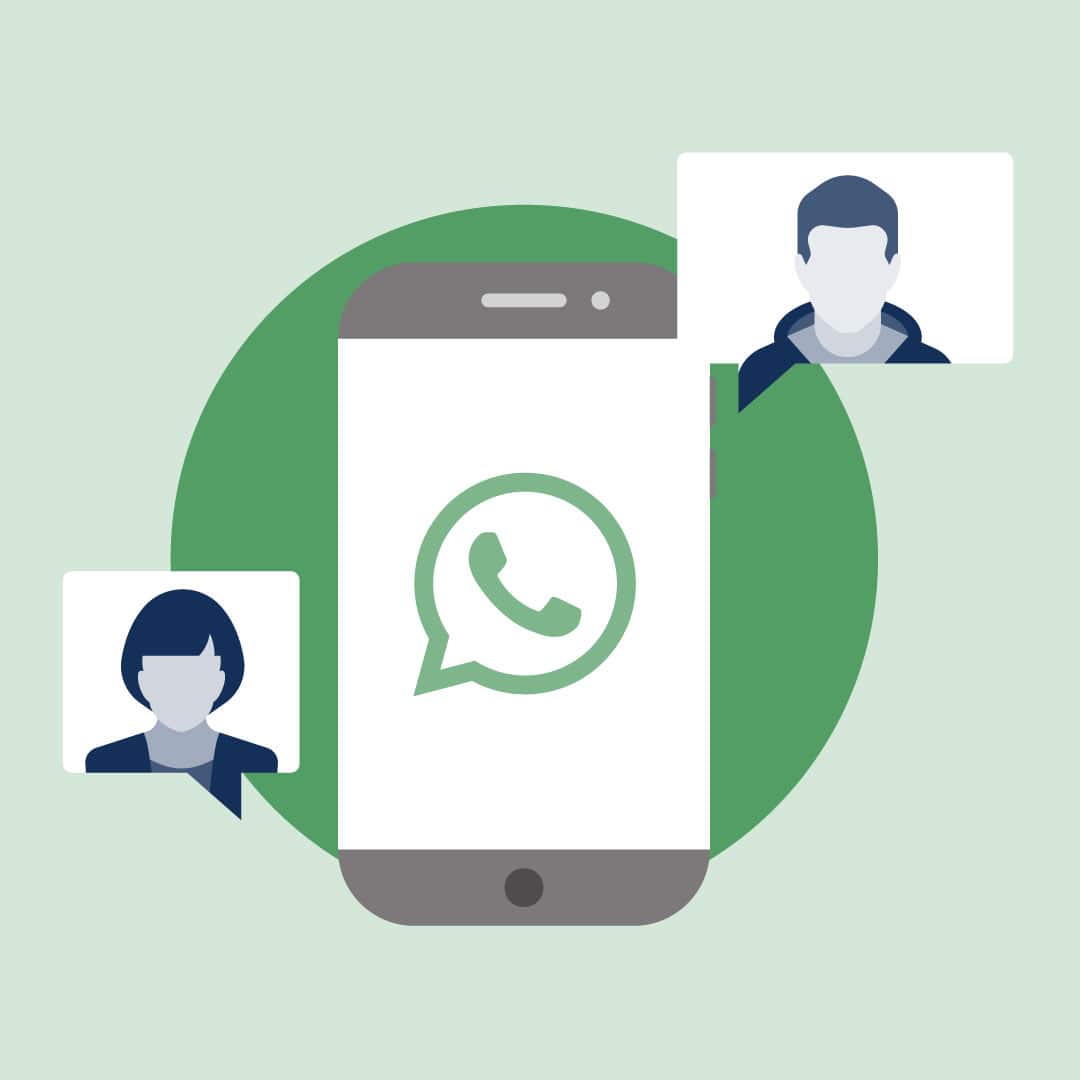 WhatsApp customer service is an important component of any brand's social customer care strategy.
Companies using WhatsApp for customer service can offer everything —
Why use WhatsApp for customer service
WhatsApp is the world's third-most-used social media platform, behind Facebook and YouTube. With two billion users, it has more than double the user base of Facebook Messenger.
But perhaps more important, people like and trust WhatsApp more than other popular messaging apps — it's the favorite social platform among Internet users aged 16 to 64.
Source: Hootsuite's Global State of Digital 2022
Those people are using the messaging app to connect with friends and family — and to reach out to businesses. 80% of adults say messaging is an easy way to communicate with businesses. And 175 million people message a business on WhatsApp every day.
So it's no surprise that nearly half of marketers (47%) plan to increase their investment in WhatsApp in 2022. And 59% say that social customer care has increased in value for their organization.
How to use WhatsApp for customer service: 9 tips
1. Complete your WhatsApp business profile
A WhatsApp business profile includes information that makes it easier for customers to connect with you both on and off of WhatsApp. It provides credibility for your brand. It can also set expectations for how customers can interact with you on the app.
Here's a look at the WhatsApp business profile for Levi's. It lets customers know they can use WhatsApp to interact with a virtual assistant and provides business hours for human agents.
You can create your business profile through the software options provided at the end of this post.
2. Let customers know they can reach you on WhatsApp
Offering WhatsApp customer service allows customers to reach you through a channel they already use and understand. But this only works if they know they can find you there.
Make it easy for your customers to find and contact you on WhatsApp. Try adding a "click to chat" link anywhere you share customer service contact information. You can also create a QR code that connects customers with your WhatsApp care team.
Here's an example of the real QR code you can use to request information about Sparkcentral by Hootsuite.
The code opens up a chat with the verified Sparkcentral Whatsapp business account. There's even a pre-filled message asking for information about Sparkcentral.
QR codes are a great option for offline customer communication materials, to. For instance, try them on product packaging and business cards.
3. Set response time expectations
Customers don't think in business hours. That's especially true if you serve an international audience. Autoresponders can help you set response time expectations. This is much better than leaving your customers waiting in a void.
Even better, chatbots can help answer customers' most common requests, like order tracking. More sophisticated chatbots incorporate artificial intelligence. They can even help with product recommendations and sales.
4. Integrate WhatsApp with your CRM and other messaging channels
Integrate WhatsApp with your CRM and other messaging and customer support channels. This gives you a full understanding of who you're chatting with. You'll have a sense of what they're most likely to want and need from your customer care team.
If they're in your CRM system, a customer who contacts you through WhatsApp will be identified by name. This means you can offer a friendlier response. When you connect WhatsApp with your existing customer service contact center software, you can integrate it into your ticket distribution functions.
Access to existing contacts and conversations with your customers is critically important. More than half (51%) of customers with complaints make three or more contacts with the company to try to get resolution. WhatsApp may be just one of the channels used for those complaints.
5. Automate basic tasks with chatbots
Simple, repetitive requests don't require a human skillset.
For example, tracking and order status inquiries are perfect tasks for companies using WhatsApp for customer service to offload to WhatsApp chatbots. Your customer care team can then spend more of their time working on requests that need a human touch.
WhatsApp bot customer service works 24/7. Your customers get immediate resolution to their requests – regardless of timezone.
6. Send proactive messages that help customers
If customers opt in to service updates, you can send messages that offer help even before they seek you out.
Potential examples include:
shipping notifications
parcel tracking numbers
appointment reminders
flight status alerts
KLM uses WhatsApp to send customers real-time updates. Common examples include boarding gate and luggage carousel information. Passengers can therefore skip the search for an airport screen with this info.
You could even follow up with new customers after a purchase to see if they have any questions or need help. This is a great way to establish an ongoing relationship. Over time, this can enhance brand loyalty.
7. Take advantage of WhatsApp's rich media features
WhatsApp customer interactions usually start as text chats, but they don't have to stay that way. WhatsApp supports images, videos, audio, and even PDFs.
So, if a client needs help with a product issue, ask them to send a photo. Share videos with assembly instructions. Share PDF forms or audio clips. Or even hop on a video chat.
Singapore's Changi Airport used WhatsApp to offer a virtual concierge service during the early stages of the pandemic. Its personal shopping assistant offered product recommendations. Live agents even showed customers around the shops they were unable to access in person.
But don't get gimmicky. If rich media can improve the customer experience, use it. Otherwise, stick to text since that's what most customers will expect when contacting you through WhatsApp.
8. Link your product catalog
Think this seems more like a strategy for WhatsApp marketing? Incorporating your catalog into your WhatsApp business profile is also important for customer service.
First, a product catalog can help provide context for customer questions. They can browse your products or services and ask questions about a specific offering. You can also share your entire product catalog link or links to specific products. This is an instant way to assist customers looking for product recommendations.
Here's how this works from the customer's perspective:
Keep in mind that more than 40 million people view a product catalog on WhatsApp every month.
9. Track your results
When adding a new channel to your customer service portfolio, it's important to understand how well it's working. After all, a customer care channel that makes customers frustrated or angry is worse than no customer service channel at all.
You'll notice in the example above that KLM asks for feedback on its WhatsApp customer service. Surveys are a good way to get first-person feedback from customers about how well your WhatsApp efforts meet their needs.
Your CSAT (customer satisfaction) score can also help gauge how effective new customer service efforts are. When you add WhatsApp as a service channel, keep an eye out for changes to your CSAT.
WhatsApp customer support software
To offer customer service through WhatsApp, you'll need to use WhatsApp business tools. Here are some of the best WhatsApp customer support software options, depending on the size and type of your business.
Source: WhatsApp Business App
WhatsApp Business App is a free tool for small businesses. It gives you access to WhatsApp business features like:
A business profile with your contact information
Quick replies to use in response to common questions
Labels, so you can keep track of customers versus leads and so on
Automated away messages and new customer greeting messages so you can set response expectations
The business app also allows you to use a landline phone number for WhatsApp. You can maintain separate profiles for your business and personal accounts on one phone, as long as each WhatsApp account has its own unique phone number.
More than 50 million businesses use the WhatsApp Business app.
Larger businesses with multiple active users and compliance requirements will need to use the WhatsApp Business API. The best way to implement the API is through WhatsApp's official Business Solution Providers, like…
Sparkcentral combines WhatsApp messaging with other customer care conversations in one centralized dashboard. You get a unified view of your customer, so you can respond with precision and speed.
Chatbots automate basic WhatsApp customer care. And proactive customer service notifications keep customers informed before they need to reach out for help.
Teams can collaborate and route queries to the right people, so the customer gets the best response on the first try.
You can also ease employee workload while improving consistency. Create response templates and automatic topic detection for incoming customer care requests. Send appointment reminders, shipping alerts, and more automatically to save time for customers and your team.
Brands can also get a green verified badge through Sparkcentral, so customers know they're dealing with the real brand account.
Heyday offers WhatsApp customer care solutions specifically designed for retailers. With its artificial-intelligence-powered Whatsapp bot customer service, Heyday can handle up to 83% of customer queries through automation. That's a lot of time freed up for your team, and a lot of customers receiving instant resolution.
Heyday automates FAQs, order tracking, customer surveys, and more. WhatApp customer messages appear in a unified inbox with contacts from other communication channels. And the system includes smart agent handoff. So your customer is always connected to a human agent when the chatbot reaches the limits of its skillset.
Heyday goes beyond basic customer service requests. Catalog integration means you can use WhatsApp chatbots to help guide customers to the right products. You can also offer customer purchase recommendations.
Heyday also offers detailed analytics, including CSAT score and average response time.
Source: Hootsuite App Directory
Spectrm allows you to create chatbots for WhatsApp Business. It uses conversational artificial intelligence to understand customer inquiries. By tracking data throughout the marketing funnel, Spectrm's WhatsApp bit customer service helps you provide customer product recommendations and personalized messages.
Build a more effective WhatsApp presence with Hootsuite. Respond to questions and complaints, create tickets from social conversations, and work with chatbots all from one dashboard. Get a free demo to see how it works today.
Manage every customer inquiry on a single platform with Sparkcentral. Never miss a message, improve customer satisfaction, and save time. See it in action.