 Some investors seeing a bargain in Meta after the company lost more than a third of its value

Current Meta valuation puts the company in the basket of value stocks for the first time.

The stock's reversal could prove short-lived, however
After a massive selloff this year, shares of Meta Platforms (NASDAQ:), Facebook's parent company, have started showing signs of life. The stock is up more than 12% during the past 30 days, outperforming other FAANG group tech giants such as Apple (NASDAQ:), Amazon (NASDAQ:), and Netflix (NASDAQ:).
Meta shares closed Wednesday at $223.30.
The turnaround comes after a bearish rout that erased about $500 billion in Meta's market value since the stock's peak in September of last year. The main catalyst for the selloff was a devastating in February, in which the company reported that its user base had stopped growing in the fourth quarter of 2021.
This sharp tumble, however, has made Meta's valuation cheaper than many value stocks when considering price relative to profits. The Menlo Park, California-based company now sells for 18 times estimated earnings. By comparison, the average valuation in the is around 26 times earnings. That's never happened before in Meta's tenure as a listed company.
Buy Signal?
For most analysts, the current setup is a signal to dive in and scoop up Meta shares. The communications services behemoth—which not only owns Facebook, the largest social media platform in the world but is also the parent company of Instagram and WhatsApp among other properties—has produced massive profits for many years and should continue to do so by running the world's most populated social media sites.
In a note this week, UBS analyst Lloyd Walmsley raised his price target on Meta to $300 per share from $280, citing improvement in user engagement on Instagram Reels. The new price target is about 34% higher than where shares traded on Wednesday.
His note said:
"We believe Instagram Newsfeed changes and improving Reels content/algo can drive better engagement that we expect to monetize later in 2022 and in 2023. While the timing is unclear, we think a ramp in Reels monetization, easing comps, and improvements in targeting/measurement can drive the multiples back towards its 3-year average of a ~9% premium to the S&P 500."
Walmsley's positive outlook also appears in Investing.com's survey of analysts. Most forecasters rate Meta as a buy with a consensus price target that implies a 44% upside potential.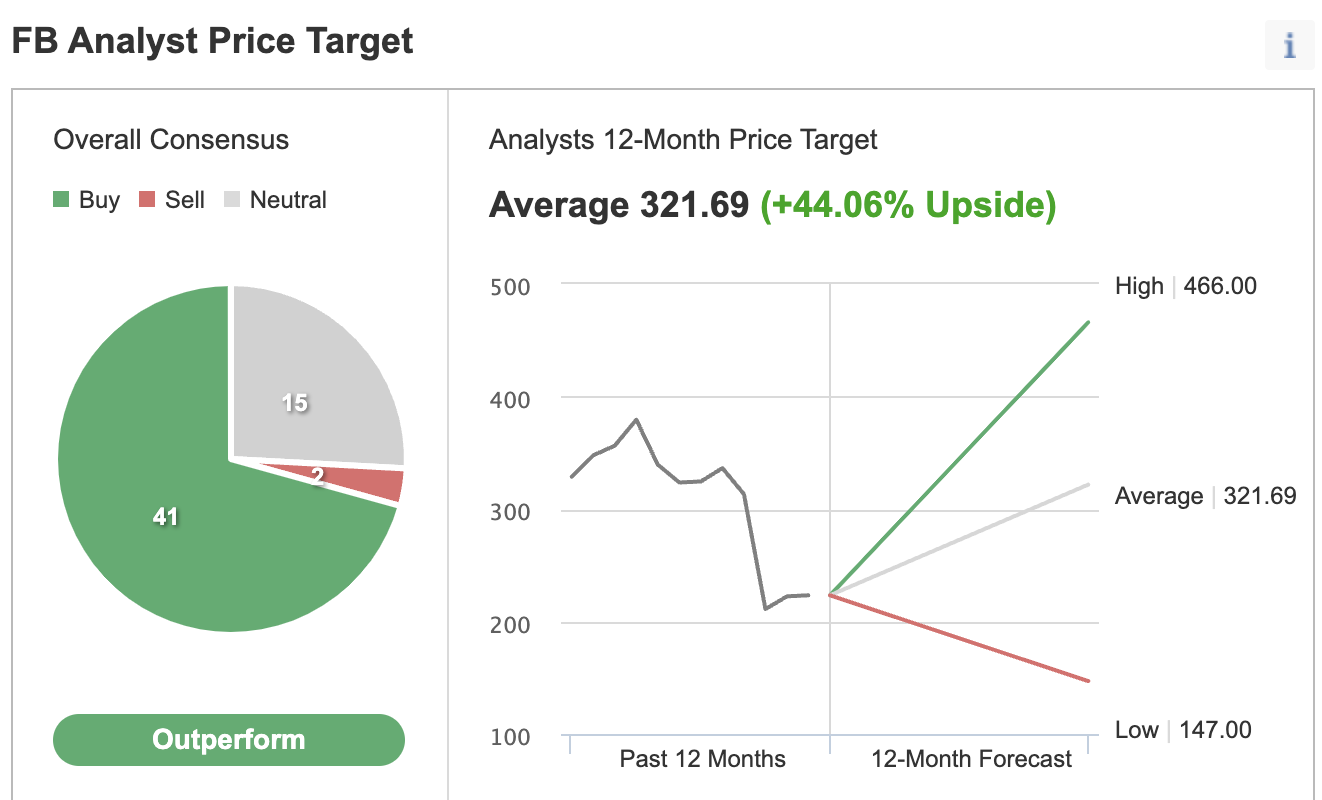 Source: Investing.com
Similarly, according to several financial models like those that value companies based on P/E or P/S multiples or terminal values, the average fair value for Meta stock on InvestingPro stands at $366.45, implying more than 60% upside potential.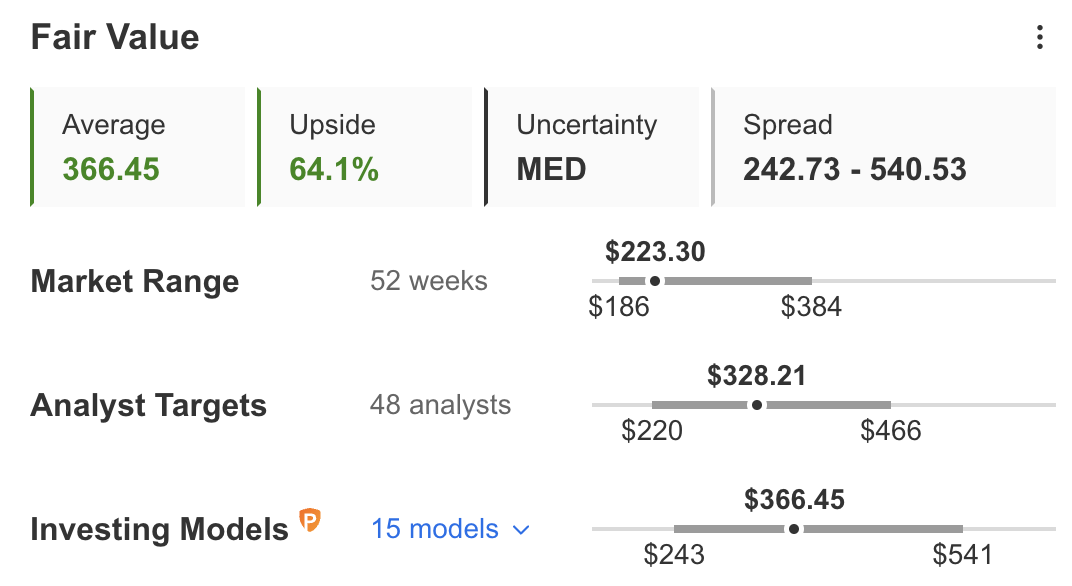 Source: InvestingPro
Despite these bullish forecasts, we caution investors that CEO Mark Zuckerberg and his team have a challenging road ahead in order to put the company back on a growth trajectory.
The most significant headwind the company currently faces comes from escalating challenges at its core business, including heightened competition, a hostile regulatory environment, and advertiser reluctance to spend big when the economy looks to be entering a tough patch.
In addition, there is a lack of visibility on Zuckerberg's metaverse shift. We don't know how long it will take for this massive undertaking to pay off. Meta's Reality Labs, which is giving shape to the company's metaverse ambitions, lost $10.2 billion in 2021. These challenges could continue to keep Meta stock depressed in the short run.
Still, Zuckerberg has an excellent track record of exceeding expectations and producing robust returns for his investors. Meta, in our view, is a bet for buy-and-hold investors who believe in the company's new direction, which could pay off in the long run.