 Oil and gas markets are moving upwards side by side as heightened tensions from the war in Ukraine and a mother lode of sanctions on Russia bring about the wildest price gains in a decade in energy.
As prices hit 10½ year highs above $112 a barrel on Wednesday, following Russia's conquest of the southern Ukrainian city of Kherson and bombardment of eastern Kharkiv, gas pricing on the Netherlands' TTF exchange spiked to above $60—a peak unseen since December 2021. 
On New York's Henry Hub, the front-month April contract jumped 4% to $4.891 per thermal unit, building towards a third straight week of gains that would result in a cumulative 24% for the contract since the week of Feb. 7.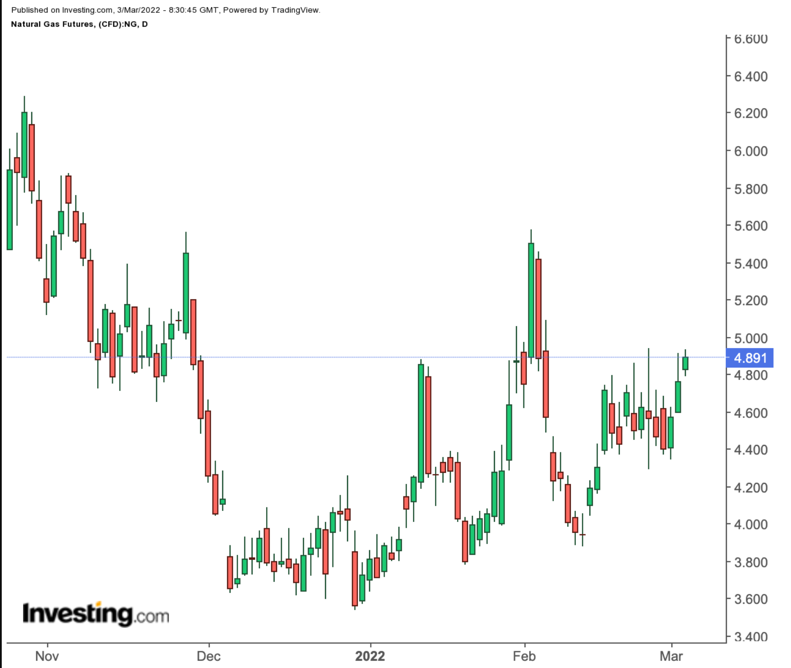 "At the moment, energy prices across multiple different commodities are heavily correlated with each other, as each market attempts to price in the risk associated with the Ukraine crisis and the adverse effects of a global supply shock," Dan Myers, analyst at Houston-based gas markets consultancy Gelber & Associates, said in an email to the firm's clients on Wednesday.
Myers noted that since the Ukraine war erupted, Henry Hub has moved upwards by around 17 cents, with the front months experiencing the highest price changes. 
As a result, the Henry Hub forward curve through 2024 has become backwardated, though not to the extent observed in the forward curve of US crude's West Texas Intermediate benchmark, Myers wrote.
His observations came ahead of the on natural gas due on Thursday from the US Energy Information Administration.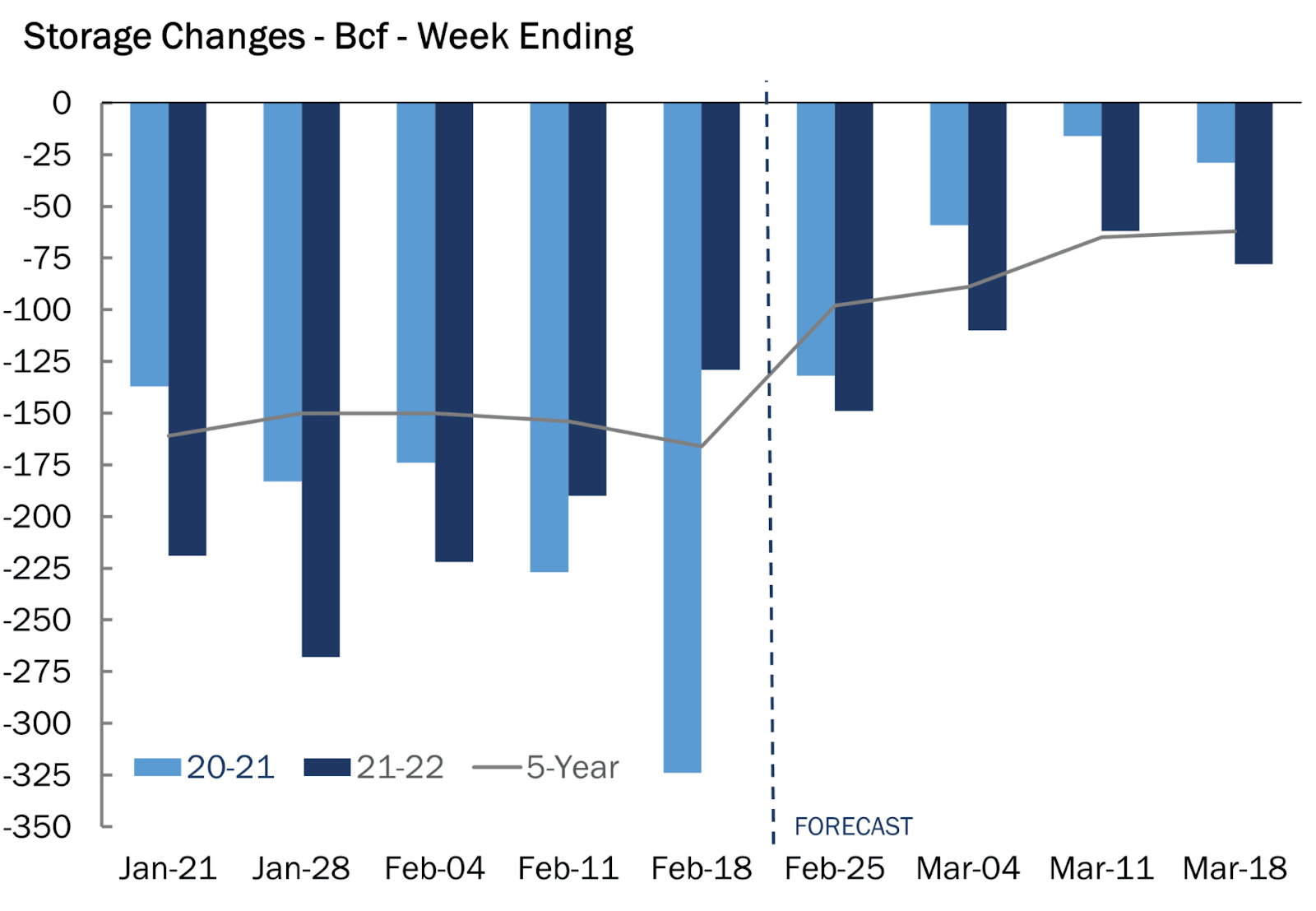 Source: Gelber & Associates
Analysts tracked by Investing.com expect a drawdown of 138 billion cubic feet (bcf) for the week ended Feb. 25, compared with the withdrawal of 132 bcf during the same week a year ago and a five-year (2017-2021) average withdrawal of 98 bcf.
It would also be the eighth week in a row where weekly gas burns by utilities had exceeded 100 bcf, with four of those weeks turning in drawdowns in excess of 200 bcf.
In the prior week to Feb. 18, utilities withdrew 129 bcf of gas from storage.
If analysts' consensus forecast is on target, the withdrawal during the week ended Feb. 25 would cut inventories to 1.644 trillion cubic feet (tcf), about 13.4% lower than the five-year average and 11.6% below the same week a year ago.
"Robust weather-driven demand will be noted as the usual suspect behind (the) large withdrawal," Myers wrote in his email. 
There were 183 heating degree days (HDDs) last week, meanwhile, compared with a 30-year normal of 165 HDDs for the period, according to data from Refinitiv.
HDDs, used to estimate demand to heat homes and businesses, measure the number of degrees a day's average temperature is below 65 degrees Fahrenheit (18 degrees Celsius).
Myers added, however, that "an examination of the market without weather-driven effects reveals that the domestic market is currently weakening week-over-week from its extremely undersupplied state."
Beyond Thursday's gas storage update, it looks increasingly likely that forthcoming drawdowns of gas for heating could be smaller, added Myers. 
Despite this, "weakening winter forecasts have largely been cast to the side as international turmoil casts long, far-reaching shadows across the rest of the world's commodity markets, limiting the impacts of the simple, domestic day-to-day changes that previously dominated the markets just a few weeks ago," he concluded. 
Kaushal Ramesh, senior analyst at Rystad Energy, has a similar view.
A "full-tilt" demand for US exports of liquefied natural gas (LNG) could emerge from the Russia-Ukraine war, Ramesh said in comments carried by the naturalgasintel.com portal.
"Given that Europe was already low on supplies this winter, dwindling deliveries of gas from Russia would amplify the continent's need for US supplies," he said.
Bespoke Weather Services concurred with Ramesh and Myers, noting that the likelihood of increased calls for US LNG outshone modest domestic weather demand.
"For now, the warmth over the next week or so wins out, skewing the 15-day outlook slightly toward the below-normal side in terms" of gas-weighted degree days, Bespoke said in comments also carried by naturalgasintel.com. 
"The main driver of price action across all markets continues to be the situation over in the Ukraine," it said.
"The market is more news-driven than data-driven" and "that likely remains the case for the foreseeable future."
Disclaimer: Barani Krishnan uses a range of views outside his own to bring diversity to his analysis of any market. For neutrality, he sometimes presents contrarian views and market variables. He does not hold a position in the commodities and securities he writes about.