 China vows to boost its economy
Global markets rebound
Gold and the US dollar slip
Key Events
Global markets, as well as futures on the , , , and jumped in trading on Wednesday after China's government tried to ease anxiety about additional regulations on the country's technology sector as well as concerns about the beleaguered Chinese property sector. Official comments helped improve trader sentiment which has been seriously dented by war and high inflation worries.
Treasuries sold off ahead of today's Federal Reserve .
Global Financial Affairs
Chinese policymakers promised to support the market and boost economic growth in response to the recent stock selloff there, particularly in property and technology shares. Chinese and Hong Kong shares lost about $1.5 trillion in value over the last two days. Part of the pessimism was due to concerns that China's relationship with Russia will see the Asian nation being subjected to sanctions as well as an exodus of business and capital.
This morning the jumped over 9%, the most since 2020. Firms listed on the Hong Kong exchange registered the most significant gain since the global financial crisis; conversely, the index dropped, losing 11% at time of writing.
Europe's soared 1.8% at the open, thanks to a jump in the travel & leisure, consumer products, and financial sectors.
All four US index futures were green on Wednesday, with NASDAQ futures outperforming its peers.
US stocks rebounded on Tuesday at the same time as oil prices extended their selloff notwithstanding that the came in flat for February YoY, thereby surprising to the downside. All of which eased expectations that the Fed will be aggressive in its tightening, which would slow or even end economic growth.
Treasury yields on the note eased slightly.
The declined for the third consecutive day, in a crowded trade which is the telltale sign of a continuation pattern.
The greenback has been developing a potential pennant, bullish after the price completed an H&S continuation pattern.
slid for the fourth day, losing the safe-haven asset competition to US Treasuries.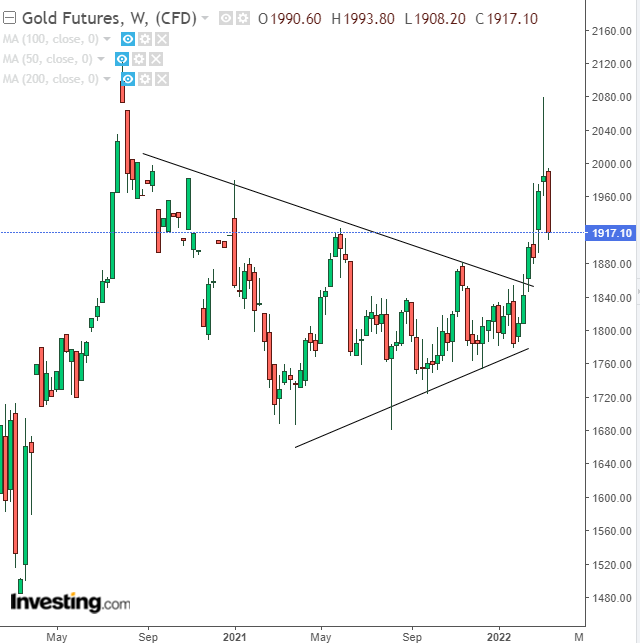 Gold Weekly
Technically, the yellow metal was performing a return move after breaking out of a substantial symmetrical triangle, whose implied objective was nonetheless already met.
rallied but then gave up some of its advance.
found support after a two-day selloff.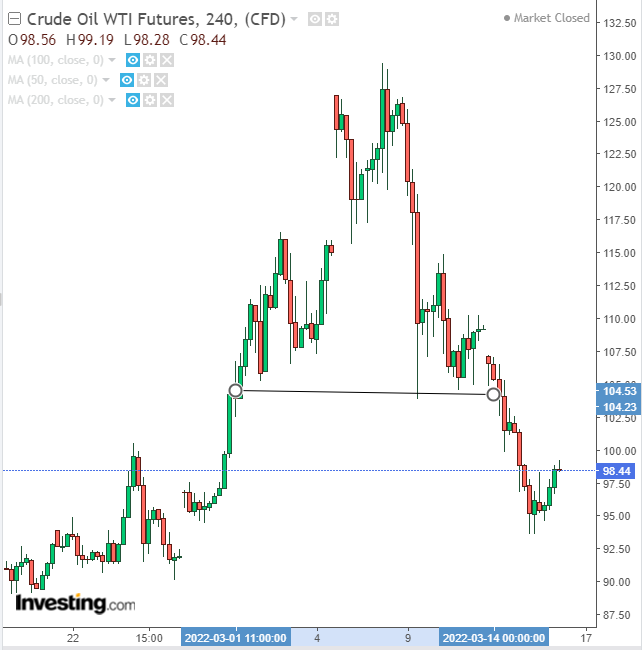 Oil 4-Hourly
Technically, the price may be performing a return move after an H&S top on the 4-hour chart.
Up Ahead
On Thursday, the Bank of England announces its .
Europe publishes figures on Thursday.
The index is published on Thursday.
Market Moves
Stocks
The STOXX 600 rose 1.8%
Futures on the S&P 500 climbed 0.8%
Futures on the NASDAQ 100 advanced 1.3%
Futures on the Dow Jones Industrial Average rose 0.7%
The MSCI Asia Pacific Index jumped 3.3%
The MSCI Emerging Markets Index rose 4%
Currencies
The Dollar Index fell 0.1%
The rose 0.365 at $1.0986
The was little changed at 118.35 per dollar
The rose 0.2% to 6.3699 per dollar
The rose 0.2% to $1.3061
Bonds
The yield on 10-year Treasuries eased to 2.16%
Germany's yield rose to 0.3685%
Britain's yield increased two basis points to 1.60%
Commodities
rose 0.9% to $100.83 a barrel
rose 0.2% to $1,921.12 an ounce